The Penicap, a chastity cage for piercings in various sizes (see dimensions), is a own developement of Lustlock.com in collaboration with a specialized piercing studio for chastity piercing in Switzerland.
A penis cage system, which is fixed on a Prince Albert or Frenum Piercing,  without any ballclamps. A unique solution for serious, longterm male chastity: comfort, safety, hygiene, everyday usability.
Versions of the PENICAP chastity cage:
Frenum Piercing

Prince Albert Piercing
The new Penicap v2 is now 2 years on the market. The new version is now made according individual configuration and sizes by 3d laserprinting.
New in the program we have a version for Frenum piercings wearers. Condition is a strong tissue bridge over the frenum (or it may tear) , and a 3mm piercing (9 G). No further Prince Albert fixation  necessary. Works only in combination with the longshaft variant of the Penicap, because Frenum piercings are somewhat moveable and do not give such a precise fixation like a PA piercing.
For PA Variant (Prince Albert) in 5 mm (4G) or 8mm (0 G) pin size: Longshaft available, which is, depending on the size, 24 – 28mm longer. Suitable for men, who can masturbate by stroking the shaft only. But: it means also more volume, which is a slight drawback of the brilliant comfort of the short version.
COMPULSORY PRECONDITIONS for a Penicap are
PRINCE ALBERT PIERCING  of 5mm or 8mm (4 or 0 G)
or
FRENUM PIERCING of 3mm (9 G)

CIRCUMCISED or LOOSE FORESKIN

(which can be worn permanently rolled back)

Function and Description of the Penicap Chastity Cage
The glans is protected by a anatomical formed, hard-case thermoplast lightweight mould, in which the glans gets locked by a pin, which replaces the Prince Albert piercing. The mould is in some dimensions slightly undersized to your measurements. The erected glans gets clamped in the specially designed housing, and will not move forth or back anymore. The pin is locked outside of the case by a tiny, special designed security lock. The case inhibits any manipulation, touching, caressing, pumping etc of the glans. Only in a limp state a movement of the shaft and glans against the housing is possible.
Because of its compact and small construction, comfort and hygienic conditions,
Short or Long Version?
The long version is 20mm longer than the short (Frenum only in long, PA short or long version).
The long one is recommended to men who are able to cum by stroking the shaft, without touching the glans.
The short version has less volume, gives your penis more movement and more flexibility in your pants.
The long version is sligthly more difficult to mount: insertion of the PA pin or the hasp needs more training, and the help of a tool like tweezers or nose pliers. But you will succeed.
Frenum Penicaps must be longshaft, otherwise fraud is possible.
Taking off is as quick as in the short version.
see also frequently asked questions about chastity cages in the FAQ
Penis cage PA short version
Peniscage PA long version
Wearing Time
The Penicap can be worn for unlimited time and in every possible life situation- sports, cyling, riding, swimming, etc..It can be worn under tight jeans.It is airport safe. The penicap is very comfortable, the wearer gets immediately used and will not notice the presence of a PeniCap.
Erections
Only under erection you will feel the sensation of pressure on your glans. The PeniCap allows erections, which are not painful. To allow erections (especially in sleep) is more sound than to hamper them, what most other chastity device do. And more erotical in play (teasing and denial…)
Sleep may be interrupted in the beginnig of wearing, but this subsides in most cases quickly in a few days.
Urination
is easily possible. Also peeing in standing position is possible with a fairly good jet through the front hole. Mop up remaining drops of urine with a piece of toilet paper. The inside can dry by the perforated and ventilated design.
Cleaning
In locked condition wash in the shower a sufficient cleaning. Bing soap inside the case with your small finger and wipe out the inside. Nevertheless regular cleaning is recommended, at least once a fortnight, and take off the penicap. Put the case in a dish washing machine. You need also to check for irritations on the glans from time to time. The lock has to be maintained also from time to time. (Clean, oil, sometimes ultrsound cleaning). See also detailed description in Penicap Care
Everyday usability
All existing other male chastity devices like the CB's , full cover models etc., have essential drawbacks for a everyday usability. The well known problems are insufficient functionality, i.e. protection against masturbation or ways to escape. Chafing, bulky volume, poor hygiene, simply uncomfortable or harmful for health (models with clamping behind the testicles may constrict and retain venous testicular bloodflow, and have a permanent high pressure on the skin), are the major drawbacks.
Few men succeded to orgasm also in a Penicap, mainly by stroking the shaft alone above the cage. But it makes it really difficult, and for the majority unpossible to cum. But for those intractables we have developped the longshaft model…

PA version bottom/ inside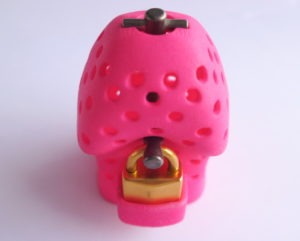 Frenum Version
Size
Outer dimensions short tube version: from 45 x 37 x 48 mm (incl. lockhousing) to 57 x 51 x 64 mm, acc. to model size.
Outer dimensions long tube version: from 45 x 37 x 66 mm (incl. lockhousing) to 57 x 51 x 92 mm, acc. to model size.
For inner dimensions and how to choose your size see DIMENSIONS
Material
Cage and pin made of strong, stiff and mechanical resistand Polyamid ("Nylon"), a skinfriendly thermoplast. Resistant to solvent, alcohol, urine etc., heat resistent up to 90°C.
Colors FDA approved.
In a superior version the pin can also be ordered in Tianium, glossy polished.
Locks are a german security lock qualitity brand product, which have been refined by Lustlock (same type of lock like for piercings locks: all corners and edges rounded), coated with silver or gold, and  with a special hasp which fits only to the penicap.
Weight
total ca. 30 gr incl. lock
Versions and Colors
– Case polyamid: in several colors and sizes (see shop), slightly rough surface (better protection against slipping!)
– Pin: Polyamdid black, polished,, in correspondant size to the case, or Titnanium polished.
– Lock in gold or silver coated. Gold lock with keys in steel or gold, silver lock with keys in silver only.
PC PA short old series black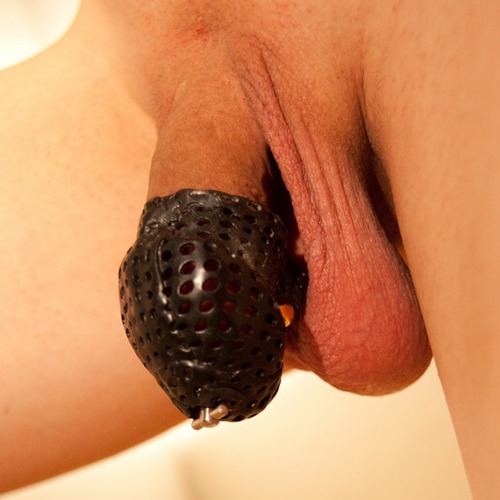 PC PA long pink
PC PA long pink
PC Frenum old series